Once a week I'm going to try to watch a Bollywood movie on Netflix and review it on here, because Bollywood has a bad reputation in the west, and I want to find and share some hidden gems.
In a nutshell: Kal Ho Naa Ho (2003) is the story of Naina, Rohit, and Aman and their journeys about finding love and celebrating life, because tomorrow is never promised. I gave it 5 out of 5 stars, and 10,000 tears.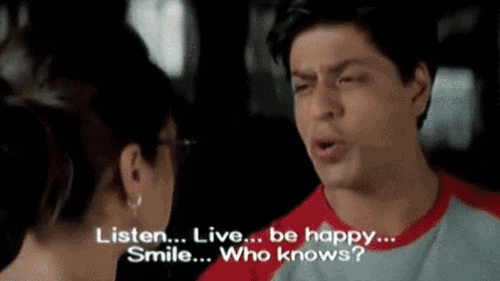 Naina is a twenty-three year old MBA student living in New York City with her widowed mother Jennifer/"Jenny", her dad's mother Lajjo, her disabled brother Shiv, and her adoptive sister Gia. Naina's mother has crippling debt and owns a small restaurant that isn't doing too great, and her grandmother is very hostile towards Jenny, and abusive to Gia because she thinks her son committed suicide due of Gia's adoption.
Lajjo wants to arrange a marriage for Naina with a Sikh man, but Naina is very pessimistic about men and doesn't want to marry, let alone fall in love. Her family life is pretty stressful because her mother and grandmother fight every single day.

Naina's life changes the day Aman moves in next door and sees Naina with her mother and siblings praying through a window. Aman is way too energetic and optimistic, and Naina can't stand him at first. Over time, Naina comes to realize that she loves him… But her friend Rohit is in love with her, and Aman has a secret of his own.
At first Kal Ho Naa Ho seems like some cute and quirky lighthearted romantic comedy about a girl who doesn't want to fall in love falling in love with the last person she wants to fall in love with, but then it becomes so much more. Aman keeps sticking his nose into Naina's life and tries to help her have fun and become happy. He also helps her mother out with the restaurant, then he befriends Rohit and coaches him on getting Naina's attention and winning her love. But why is Aman doing all of this? Does he like being a puppet master, or is there something more going on?
I really loved this movie! It had just the right amounts of humor, seriousness, romance, drama, and everything else you can think of that creates a great movie. Sure there were times the acting was super cheesy, but I think that's what made it fun! And for those wondering… No! This isn't nothing but song and dance!