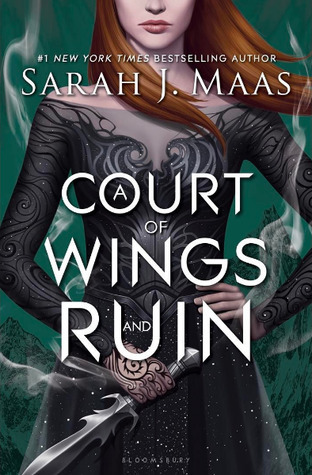 Title: A Court of Wings and Ruin
Series: A Court of Thorns and Roses #3
Author: Sarah J. Maas
Published: May 2, 2017
Genres: New Adult, Fantasy, Romance,
My Rating: ★★★☆☆
Goodreads Synopsis: Feyre has returned to the Spring Court, determined to gather information on Tamlin's maneuverings and the invading king threatening to bring Prythian to its knees. But to do so she must play a deadly game of deceit-and one slip may spell doom not only for Feyre, but for her world as well.
As war bears down upon them all, Feyre must decide who to trust amongst the dazzling and lethal High Lords-and hunt for allies in unexpected places.
It is 4AM and I have just finished this book! I had crazy high expectations for A Court of Wings and Ruin because of how much I adored A Court of Mist and Fury. However, at the same time, I knew there was a high possibility it would not meet my expectations and go down the slippery slope that the Throne of Glass series went down after Heir of Fire.
In the beginning, I was extremely disappointed with the lack of scheming and drama while Feyre was at the Spring Court. I thought the events at the Spring Court would fill up a good portion of the book, but it was so short. After she left I was sitting there thinking… That's it? How anticlimactic! While she was on the run, I was kind of expecting Tamlin to catch up with her and hold her prisoner or something. I'm also disappointed because I thought Feyre was going to be separated from Rhysand for much longer, and I was really hoping to see his point of view since the book opened with his POV.
Rhysand and Feyre's relationship in this book lost a lot of steam. In ACOMAF there was so much sass, tension and angst. Now that they're not only mates, but married, their scenes together were kind of boring and I didn't feel their chemistry anymore. I guess that's what marriage does to people. Haha. (I'm kidding.) Their sex scenes, like all of SJM's sex scenes, were repulsive yet hilarious. I cringe so much reading her sex scenes. Someone needs to tell her to stop. Rhysand also mentions a MMF threesome at one point, and it was so out of character and repulsive.
I love Feyre and how much she's grown as a character, but I really would have loved to see this book told from other perspectives to speed the story up, especially in the second part. The second part was SO boring. Am I the only one who struggled with the middle part? After a scene in the library with a creepy thing, I was bored out of my mind and wanted the book to be finished, but I still had over half to go! Feyre did a lot of telling, not showing, and things just felt bleh after a while. I want Rhysand's point of view, dammit.
Another issue I had with this book was how immature and stupid the High Lords were at times. They're a bunch of immortals who are supposed to be hella old and powerful, but they acted like sixteen year olds.
"My mate", "the male(s)", and "the female(s)" got old after a while. "I looked at my mate." "The males were…" Just say their names! For some reason, reading winnow(ed/ing) started to grate on my nerves after a while too.
I'm not sure how I feel about Elain and Nesta since their characters didn't have much growth. Hopefully they have awesome character developement in the next book. I was really hoping to see more scenes with them and their mates!
I enjoyed this book, but so far I think it's the weakest in the series. ACOMAF is hands down the best book in the series, and Sarah J Maas's best book to date. I'm kind of upset there's going to be 5 more books in this series! Don't get me wrong, I love this series and the characters, but I would have liked to see things wrapped up neatly in only a few books like originally planned. I'm afraid this is going to go downhill like Throne of Glass did.