Today's Top Ten Tuesday is a Summer Freebie. The first day of summer is technically June 20, so I still have almost one whole month to finish my Spring TBR. Here's what I have planned for summer!
Title: Nine Princes in Amber
Series: The Chronicles of Amber #1
Author: Roger Zelazny
Goodreads Synopsis: Amber, the one real world, wherein all others, including our own Earth, are but Shadows. Amber burns in Corwin's blood. Exiled on Shadow Earth for centuries, the prince is about to return to Amber to make a mad and desperate rush upon the throne. From Arden to the blood-slippery Stairway into the Sea, the air is electrified with the powers of Eric, Random, Bleys, Caine, and all the princes of Amber whom Corwin must overcome. Yet, his savage path is blocked and guarded by eerie structures beyond imagining; impossible realities forged by demonic assassins and staggering horrors to challenge the might of Corwin's superhuman fury.' to 'Awakening in an Earth hospital unable to remember who he is or where he came from, Corwin is amazed to learn that he is one of the sons of Oberon, King of Amber, and is the rightful successor to the crown in a parallel world.
Title: The Golden Compass
Series: His Dark Materials #1
Author: Philip Pullman
Goodreads Synopsis: Here lives an orphaned ward named Lyra Belacqua, whose carefree life among the scholars at Oxford's Jordan College is shattered by the arrival of two powerful visitors. First, her fearsome uncle, Lord Asriel, appears with evidence of mystery and danger in the far North, including photographs of a mysterious celestial phenomenon called Dust and the dim outline of a city suspended in the Aurora Borealis that he suspects is part of an alternate universe. He leaves Lyra in the care of Mrs. Coulter, an enigmatic scholar and explorer who offers to give Lyra the attention her uncle has long refused her. In this multilayered narrative, however, nothing is as it seems. Lyra sets out for the top of the world in search of her kidnapped playmate, Roger, bearing a rare truth-telling instrument, the alethiometer. All around her children are disappearing—victims of so-called "Gobblers"—and being used as subjects in terrible experiments that separate humans from their daemons, creatures that reflect each person's inner being. And somehow, both Lord Asriel and Mrs. Coulter are involved.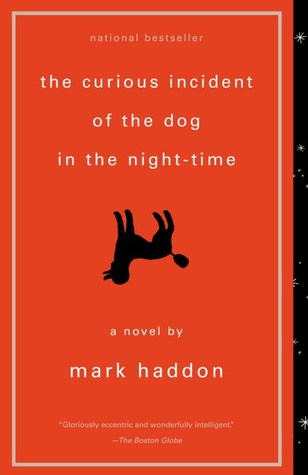 Title: The Curious Incident of the Dog in the Night-Time
Author: Mark Haddon
Goodreads Synopsis: Christopher John Francis Boone knows all the countries of the world and their capitals and every prime number up to 7,057. He relates well to animals but has no understanding of human emotions. He cannot stand to be touched. And he detests the color yellow.
Although gifted with a superbly logical brain, for fifteen-year-old Christopher everyday interactions and admonishments have little meaning. He lives on patterns, rules, and a diagram kept in his pocket. Then one day, a neighbor's dog, Wellington, is killed and his carefully constructive universe is threatened. Christopher sets out to solve the murder in the style of his favourite (logical) detective, Sherlock Holmes. What follows makes for a novel that is funny, poignant and fascinating in its portrayal of a person whose curse and blessing are a mind that perceives the world entirely literally.
Title: So Yesterday
Author: Scott Westerfeld
Goodreads Synopsis: Ever wonder who was the first kid to keep a wallet on a big chunky chain, or wear way-too-big pants on purpose? What about the mythical first guy who wore his baseball cap backwards? These are the Innovators, the people on the very cusp of cool. Seventeen-year-old Hunter Braque's job is finding them for the retail market.But when a big-money client disappears, Hunter must use all his cool-hunting talents to find her. Along the way he's drawn into a web of brand-name intrigue-a missing cargo of the coolest shoes he's ever seen, ads for products that don't exist, and a shadowy group dedicated to the downfall of consumerism as we know it.
Title: Terrier
Series: Beka Cooper #1
Author: Tamora Pierce
Goodreads Synopsis: Beka Cooper is a rookie with the law-enforcing Provost's Guard, commonly known as "the Provost's Dogs," in Corus, the capital city of Tortall. To the surprise of both the veteran "Dogs" and her fellow "puppies," Beka requests duty in the Lower City. The Lower City is a tough beat. But it's also where Beka was born, and she's comfortable there.
Beka gets her wish. She's assigned to work with Mattes and Clary, famed veterans among the Provost's Dogs. They're tough, they're capable, and they're none too happy about the indignity of being saddled with a puppy for the first time in years. What they don't know is that Beka has something unique to offer. Never much of a talker, Beka is a good listener. So good, in fact, that she hears things that Mattes and Clary never could – information that is passed in murmurs when flocks of pigeons gather … murmurs that are the words of the dead.
In this way, Beka learns of someone in the Lower City who has overturned the power structure of the underworld and is terrorizing its citizens into submission and silence. Beka's magical listening talent is the only way for the Provost's Dogs to find out the identity of this brutal new underlord, for the dead are beyond fear. And the ranks of the dead will be growing if the Dogs can't stop a crime wave the likes of which has never been seen. Luckily for the people of the Lower City, the new puppy is a true terrier!
Title: Being
Author: Kevin Brooks
Goodreads Synopsis: It was just supposed to be a routine exam. But when the doctors snake the fiber-optic tube down Robert Smith's throat, what they discover doesn't make medical sense. Plastic casings. Silver filaments. Moving metal parts. In his naked, anesthetized state on the operating table, Robert hears the surgeons' shocked comments: "What the hell is that?"
"It's me," Robert thinks, "and I've got to get out of here." Armed with a stolen automatic and the videotape of his strange organs, he manages to escape, and to embark on an orphan's violent odyssey to find out exactly who–exactly what–he is.
Title: My Life in France
Author: Julia Child with Alex Prud'Homme

Goodreads Synopsis: Julia Child single handedly awakened America to the pleasures of good cooking with her cookbook Mastering the Art of French Cooking and her television show The French Chef, but as she reveals in this bestselling memoir, she didn't know the first thing about cooking when she landed in France. Indeed, when she first arrived in 1948 with her husband, Paul, she spoke no French and knew nothing about the country itself. But as she dove into French culture, buying food at local markets and taking classes at the Cordon Bleu, her life changed forever. Julia's unforgettable story unfolds with the spirit so key to her success as a cook and teacher and writer, brilliantly capturing one of the most endearing American personalities of the last fifty years.
Title: The Left Hand of God
Series: The Left Hand of God #1
Author: Paul Hoffman
Goodreads Synopsis: The Left Hand of God is the story of sixteen-year-old Thomas Cale, who has grown up imprisoned at the Sanctuary of the Redeemers, a fortress run by a secretive sect of warrior monks in a distant, dystopian past. He is one of thousands of boys who train all day in hand-to-hand combat, in preparation for a holy war that only the High Priests know is now imminent. He has no reason to think he's special, no idea there's another world outside the compound's walls, and no hope for a life any different from the one he already knows.
And then, Cale opens a door.
What follows is a daring escape, an unlikely alliance, a desperate pursuit, a journey of incredible discovery, and an adventure the likes of which Cale could never possibly have imagined, culminating in Cale's astonishing realization that he alone has the power to save his world- or to destroy it.

Title: Airborn
Series: Matt Cruse #1
Author: Kenneth Oppel
Goodreads Synopsis: Matt Cruse is a cabin boy on the Aurora, a huge airship that sails hundreds of feet above the ocean, ferrying wealthy passengers from city to city. It is the life Matt's always wanted; convinced he's lighter than air, he imagines himself as buoyant as the hydrium gas that powers his ship. One night he meets a dying balloonist who speaks of beautiful creatures drifting through the skies. It is only after Matt meets the balloonist's granddaughter that he realizes that the man's ravings may, in fact, have been true, and that the creatures are completely real and utterly mysterious.
Title: In the Lake of the Woods
Author: Tim O'Brien
Goodreads Synopsis: On a lake deep in the Minnesota woods, Kathy Wade comforts her husband John, a rising political star, after a devastating electoral defeat. But it is clear that something is horribly wrong between them – too much has been hidden. Then Kathy vanishes, along with their boat.