Title: An Extraordinary Union
Series: The Loyal League #1
Author: Alyssa Cole
Goodreads Synopsis: As the Civil War rages between the states, a courageous pair of spies plunge fearlessly into a maelstrom of ignorance, deceit, and danger, combining their unique skills to alter the course of history and break the chains of the past…
Elle Burns is a former slave with a passion for justice and an eidetic memory. Trading in her life of freedom in Massachusetts, she returns to the indignity of slavery in the South—to spy for the Union Army.
Malcolm McCall is a detective for Pinkerton's Secret Service. Subterfuge is his calling, but he's facing his deadliest mission yet—risking his life to infiltrate a Rebel enclave in Virginia.
Two undercover agents who share a common cause—and an undeniable attraction—Malcolm and Elle join forces when they discover a plot that could turn the tide of the war in the Confederacy's favor. Caught in a tightening web of wartime intrigue, and fighting a fiery and forbidden love, Malcolm and Elle must make their boldest move to preserve the Union at any cost—even if it means losing each other…
Title: Dragon's Child
Series: King Arthur
Author: M.K. Hume
Goodreads Synopsis: Uther Pendragon, High King of Britain, is dying. As he weakens, Britain is being torn apart by the squabbling of kings. Only one man can bring them together. This is the legend of Artorex, the man destined to be King Arthur. Artorex, tall for his years, is growing up in the household of Lord Ector. Artorex was sent here by the Bishop of Glastonbury when he was but a babe in arms and, although his parentage is unknown, life has been unremarkable. That is, until the arrival of three men who arrange for him to be trained in the skills of the warrior; blade and shield, horse and fire; pain and bravery. By the time the men return, Artorex is both a father and a warrior — and married to Lady Gallia. The country is in a desperate state — Londinium is about to fall to the Saxons and Artorex is needed to help fight their advance. But to do so, he must leave his wife and family in the care of others. In an act of appalling treachery, they are slaughtered. But despite his terrible grief, Artorex's destiny is set. He launches into a campaign of battle against the Saxon hordes, earning himself the trust of all men, and proving himself to be the only worthy successor to Uther.But Uther cannot accept Artorex's role and hides his sword and crown. If Artorex is to unite the kings and fulfil his destiny, he needs the weapon destined to be worn by the High King of the Britons. Can he find the embittered Uther's hiding place? The future of Britain is at stake…
Title: The Pearl That Broke Its Shell
Author: Nadia Hashimi
Goodreads Synopsis: In Kabul, 2007, with a drug-addicted father and no brothers, Rahima and her sisters can only sporadically attend school, and can rarely leave the house. Their only hope lies in the ancient custom of bacha posh, which allows young Rahima to dress and be treated as a boy until she is of marriageable age. As a son, she can attend school, go to the market, and chaperone her older sisters.
But Rahima is not the first in her family to adopt this unusual custom. A century earlier, her great-great grandmother, Shekiba, left orphaned by an epidemic, saved herself and built a new life the same way.
Crisscrossing in time, The Pearl the Broke Its Shell interweaves the tales of these two women separated by a century who share similar destinies. But what will happen once Rahima is of marriageable age? Will Shekiba always live as a man? And if Rahima cannot adapt to life as a bride, how will she survive?
Title: The Highwayman of Tanglewood
Author: Marcia Lynn McClure
Goodreads Synopsis: A chambermaid in the house of Tremeshton, Faris Shayhan well knew torment, despair and trepidation. To Faris it seemed the future stretched long and desolate before her–bleak and as dark as a lonesome midnight path. Still, the moon oft casts hopeful luminosity to light one's way. So it was that Lady Maranda Rockrimmon cast hope upon Faris–set Faris upon a different path–a path of happiness, serenity and love.
Thus, Faris abandoned the tainted air of Tremeshton in favor of the amethyst sunsets of Loch Loland Castle and her new mistress Lady Rockrimmon. Further, it was on the very night of her emancipation that Faris first met the man of her dreams–the man of every woman's dreams–the rogue Highwayman of Tanglewood.
Dressed in black and astride his mighty steed, the brave, heroic and dashing rogue Highwayman of Tanglewood stole Faris' heart as easily as he stole her kiss. Yet, the Highwayman of Tanglewood was encircled in mystery–mystery as thick and as secretive as time itself. Could Faris truly own the heart of a man so entirely enveloped in twilight shadows and dangerous secrets?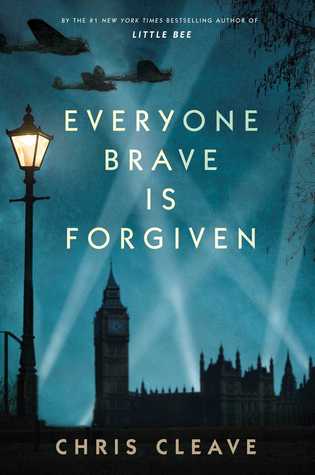 Title: Everyone Brave is Forgiven
Author: Chris Cleave
Goodreads Synopsis: It's 1939 and Mary, a young socialite, is determined to shock her blueblood political family by volunteering for the war effort. She is assigned as a teacher to children who were evacuated from London and have been rejected by the countryside because they are infirm, mentally disabled, or—like Mary's favorite student, Zachary—have colored skin.
Tom, an education administrator, is distraught when his best friend, Alastair, enlists. Alastair, an art restorer, has always seemed far removed from the violent life to which he has now condemned himself. But Tom finds distraction in Mary, first as her employer and then as their relationship quickly develops in the emotionally charged times. When Mary meets Alastair, the three are drawn into a tragic love triangle and—while war escalates and bombs begin falling around them—further into a new world unlike any they've ever known.

Title: Cane River
Author: Lalita Tademy
Goodreads Synopsis: Set among the plantations in deepest Louisiana, CANE RIVER follows the lives of five generations of women from the time of slavery in the early 1800s into the early years of the 20th century. From down-trodden, philosophical Suzette, who was born and died a slave, to educated, pale-skinned Emily, whose high ambitions born in freedom become her downfall, we are introduced to a remarkable cast of characters whose struggles reflect the tragedy of slavery and, ultimately, the triumph of the spirit. This deeply personal saga – based entirely on the author's research into her own family history – ranks with the best African-American novels and introduces a major new writer.
Title: Vengeance Road
Series: Vengeance Road #1
Author: Erin Bowman
Goodreads Synopsis: Revenge is worth its weight in gold.
When her father is murdered for a journal revealing the location of a hidden gold mine, eighteen-year-old Kate Thompson disguises herself as a boy and takes to the gritty plains looking for answers—and justice. What she finds are untrustworthy strangers, endless dust and heat, and a surprising band of allies, among them a young Apache girl and a pair of stubborn brothers who refuse to quit riding in her shadow. But as Kate gets closer to the secrets about her family, a startling truth becomes clear: some men will stop at nothing to get their hands on gold, and Kate's quest for revenge may prove fatal.
Title: Love Amid The Ashes
Series: Treasure of His Love #1
Author: Mesu Andrews
Goodreads Synopsis: Readers often think of Job sitting on the ash heap, his life in shambles. But how did he get there? What was Job's life like before tragedy struck? What did he think as his world came crashing down around him? And what was life like after God restored his wealth, health, and family? 
Title: The Midnight Rose
Author: Luvinda Riley
Goodreads Synopsis: In the heyday of the British Raj, eleven-year-old Anahita, from a noble but impoverished family, forms a lifelong friendship with the headstrong Princess Indira, the privileged daughter of Indian royalty. As the princess's official companion, Anahita accompanies her friend to England just before the outbreak of World War I. There, she meets young Donald Astbury—reluctant heir to the magnificent, remote Astbury Estate—and his scheming mother.
Ninety years later, Rebecca Bradley, a young American film star, has the world at her feet. But when her turbulent relationship with her equally famous boyfriend takes an unexpected turn, she's relieved that her latest role, playing a 1920s debutante, will take her away from the glare of publicity to a distant corner of the English countryside. Shortly after filming begins at the now-crumbling Astbury Hall, Ari Malik, Anahita's great-grandson, arrives unexpectedly, on a quest for his family's past. What he and Rebecca discover begins to unravel the dark secrets that haunt the Astbury dynasty…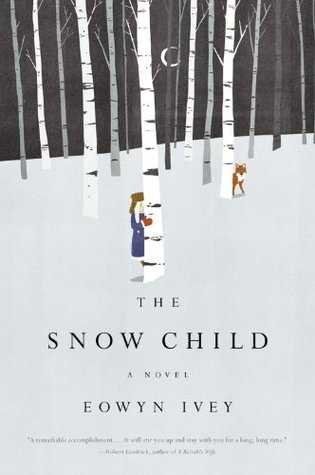 Title: The Snow Child
Author: Eowyn Ivey
Goodreads Synopsis: Alaska, 1920: a brutal place to homestead and especially tough for recent arrivals Jack and Mabel. Childless, they are drifting apart–he breaking under the weight of the work of the farm, she crumbling from loneliness and despair. In a moment of levity during the season's first snowfall, they build a child out of snow. The next morning, the snow child is gone–but they glimpse a young, blonde-haired girl running through the trees. This little girl, who calls herself Faina, seems to be a child of the woods. She hunts with a red fox at her side, skims lightly across the snow, and somehow survives alone in the Alaskan wilderness. As Jack and Mabel struggle to understand this child who could have stepped from the pages of a fairy tale, they come to love her as their own daughter. But in this beautiful, violent place things are rarely as they appear, and what they eventually learn about Faina will transform all of them.