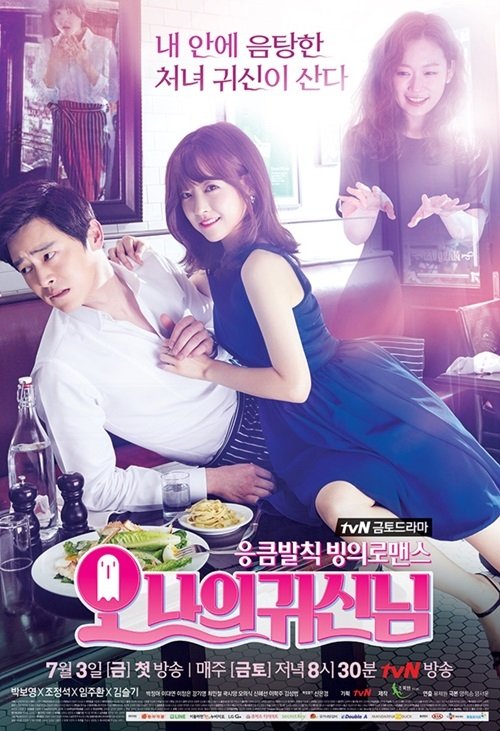 Title: Oh My Ghost
Genres: Comedy, Romance, Supernatural
Release Date: July 3, 2015 – August 22, 2015
Total Episodes: 16 | ~1 hour runtime
Rating: ⭐⭐⭐⭐
Synopsis: Bong-Sun is an introverted young woman (late 20's) working as a dishwasher/assistant in a restaurant owned and operated by star chef Sun-Woo— the man she has a secret crush on. Because her grandmother is a shaman, Bong-Sun can see ghosts. Bong-Sun's life takes a wild turn after she's possessed by ghost named Soon-ae's who holds the grudge of dying as a virgin. 
When I first started this show, it didn't grab my attention at all, and I was a little disappointed. After a few episodes, the mystery of Soon-ae's death and the past she couldn't remember made things interesting.
I really enjoyed the friendship with the guys in the restaurant kitchen, and Bong-Sun and Sun-Woo had romantic chemistry that didn't feel awkward. I also really liked the scenes with Sun-Woo's mom and the shaman, their friendship was cute.
One of the things I wish there had been more of were scenes with Soon-ae's family. I'm really glad she never told them she was a ghost and possessing someone's body, but at the same time I kind of wish she did. Hearing her brother's reaction would have been kind of funny.
There are some trends that are in most Asian dramas I've seen, but they didn't seem annoyingly cliché. Sun-woo has his eyes on a girl, and there's a guy in the restaurant who you can tell has a crush on Bong-Sun. There isn't a second male lead who suffers, thankfully.
While the ending was happy (for the most part), I didn't like it because… SPOILERS… Bong-Sun goes to school abroad and blows everyone off, then suddenly comes back and Sun-Woo acts like nothing ever happened. Was that a mistranslation, or did she really not contact him for months? It just seemed weird to me.
For those who may be wondering, there are no sex scenes or nudity.